Author and Feminism Advocate, Chimamanda Ngozi-Adichie has taken to her Instagram page to shower praises on legendary Nigerian Nobel Laureate, Professor Wole Soyinka. In her post, Adichie expressed awe for and gratitude to Soyinka describing him as a "Guiding Light. The author shared a picture of herself with the Literary Giant and wrote: "You are, for me, a Guiding Light…
Chimamanda Adichie, from Anambra State of Nigeria, is a genius. As a genius, she has graced American Times Magazine most influential 100 people on Earth a couple of times, and won world women prize for fiction 2007. She is a McArthur fellowship member, a group of world distinguished scholars only for GENIUS.
Adichie won America's National Book Critics Award for fiction 2014. Won Pen Open book Award for fiction and also won World Best short Award for Literature.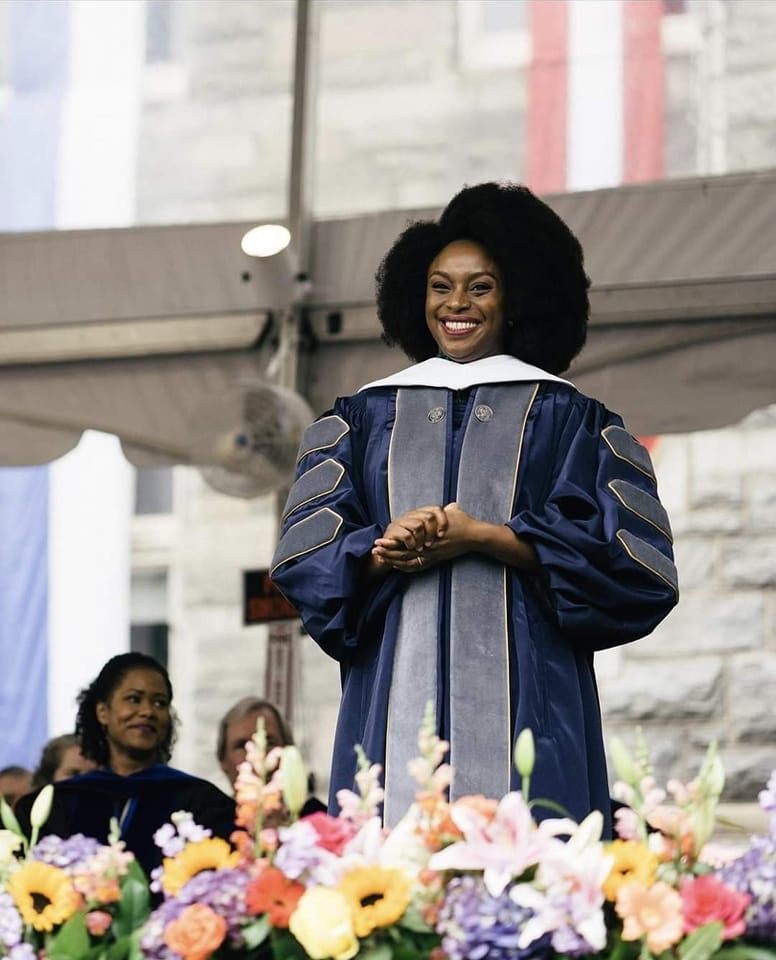 In 2002, she was shortlisted for the Caine Prize for African Writing for her short story "You in America",and her story "That Harmattan Morning" was selected as a joint winner of the 2002 BBC World Service Short Story Awards. In 2003, she won the David T. Wong International Short Story Prize 2002/2003 (PEN Center Award). In 2010 she was listed among the authors of The New Yorker's "20 Under 40" Fiction Issue. In April 2014, she was named as one of 39 writers aged under 40[106] in the Hay Festival and Rainbow Book Club project Africa39, celebrating Port Harcourt UNESCO World Book Capital 2014.
In April 2017, it was announced that Adichie had been elected as one of 228 new members to be inducted on 7 October 201, into the 237th class of the American Academy of Arts and Sciences; one of the highest honours for intellectuals in the United States.
Adichie holds 16 honorary doctorate degrees from universities including Yale University, the University of Pennsylvania, the University of Edinburgh, Duke University, Georgetown University, Johns Hopkins University, and the Catholic University of Louvain, among many others.
On 13 October 2022, she rejected an award that was to be given to her by the government of President Muhammadu Buhari. She reportedly did not accept the award and, as such, did not attend the ceremony.
Today, she is the most influential Nigerian woman apart from Okonjo Iweala on the world stage. She dines with Presidents, top elites, and even Kings and Queens. Dinning with Africa's most cherished Nobel Award winner, is still a honour, and privilege to her. The lesson, here, is that generations after her will give her the due honour.