Sergio Ramos García, who was born 30 March 1986 at Camas, Spain, is a Spanish professional footballer who plays as a centre-back for Ligue 1 club Paris Saint-Germain. Known for his aggressive play, he is widely regarded as the greatest defenders of all time, having formerly played for Real Madrid for sixteen seasons, winning four UEFA Champions League titles along with two UEFA European Championships and the 2010 FIFA World Cup with the Spain national team.
The 37 years old player started playing at Camas CF by the age of 6, then he began his career at local side Sevilla, emerging through the club's youth system alongside Jesús Navas and Antonio Puerta. He made his first team debut on the 1st of February 2004 at the age of 18 years, coming on as a 64th-minute substitute for Paco Gallardo in a 0–1 away loss against Deportivo La Coruña.
After emerging through Sevilla's youth academy and spending two seasons with the senior side, Ramos moved to Real Madrid in the summer of 2005. Since then, he went on to become a mainstay for Real Madrid, and had won 22 major honours, including five La Liga titles and four UEFA Champions League titles, becoming one of La Liga's top goal scorers from a defensive position. He played a crucial part in the build-up to all four UEFA Champions League wins, being named in the competition Squad of the Season each time. He also scored the equaliser in the 93rd minute of the 2014 UEFA Champions League Final.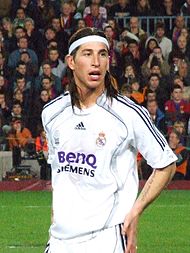 Ramos has been named to the FIFPro World11 eleven times; a record for a defender, and the third-most all-time. He has also been elected to the UEFA Team of the Year nine times, also a record for a defender and the third-most of any player. Additionally, Ramos has been named La Liga's Best Defender a record five times, and to the La Liga Team of the Season in 2015–16. In 2021, he joined Paris Saint-Germain on a free transfer.
Internationally, Ramos represented Spain at four World Cups and three European Championships. He won the 2010 FIFA World Cup and the UEFA European Championship in 2008 and 2012, being named to the FIFA World Cup Dream Team in 2010, and the UEFA Euro Team of the Tournament in 2012. He made his first appearance for Spain at the age of 18 and, in 2013, he became the nation's youngest player to ever reach 100 caps. Ramos currently holds the record as the most capped player in the history of the Spain national team and is his country's ninth-highest all-time goal scorer. He also holds the record of most international victories for Spain with 131 matches won. In February 2023, Ramos announced his retirement from international football.
Regarded as one of the best defenders in the world, and of all time, Ramos is a physically strong player who excels in the air due to his elevation, eye for goal, and heading accuracy, making him a goal threat on set-pieces; he is also a competent and aggressive tackler. In addition to his defensive skills and goal scoring ability, he is gifted with pace, and is comfortable on the ball, possessing good technical ability, as well as good distribution, passing, and crossing ability, which allows him to carry the ball forward, switch the play with long balls, or play out from the back on the ground.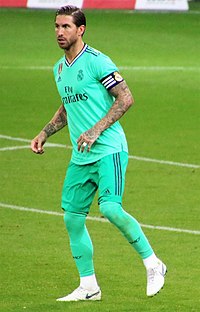 FIFA's official records confirmed that in 2015, Ramos was clocked at a sprinting speed of 30.6 kilometers per hour, making him one of the fastest footballers in the world at the time. He is also an accurate penalty taker, and is known for often using the Panenka technique when taking them. He has also been known to take free kicks, courtesy of his ability to bend the ball and his powerful striking ability from distance.
Ramos has earned plaudits for his leadership, athleticism, technical prowess, and his ability to excel both offensively and defensively, as well as his versatility, which allows him to be deployed as a centre-back and as a full-back; in his youth, he often played as a right-back, while he later established himself as a centre-back as his career progressed.
Due to his wide range of skills, his former Real Madrid manager Carlo Ancelotti has compared him to legendary defender Paolo Maldini; he went on to describe him as "the best defender in the world at the moment" in 2014, a view which was echoed by Giorgio Chiellini in 2020.
Ramos has also occasionally been deployed as a central or defensive midfielder, in particular under Ancelotti during the 2014–15 seasons. Ramos has been praised for his decisive performances in important games, most notably for Real Madrid, due to his tendency to score crucial goals for his team, and is considered by several pundits to be one of the most reliable performers in high-pressure situations. However, despite his ability as a defender, his tactical sense, consistency, and concentration from match to match have been questioned at times, he was accused of being too impulsive in his challenges or prone to occasional defensive errors throughout the course of a season.
Ramos holds multiple disciplinary records, for Real Madrid, in the Champions League, La Liga, ElClásico, and in the Spain national team.  Ramos holds the record for most carded player in La Liga, with about 191 cards. His yellow cards surpass Alberto Lopo, the former record holder for La Liga yellow cards. The remaining are red cards, making Ramos the most sent-off player in La Liga as well. His La Liga card record is higher than any other players in the major European leagues, making him the most booked player in all major European top divisions.
In the Champions League, Ramos has amassed about 40 yellow cards and closely 4 red cards, making him both the most-carded player and joint-most red-carded player in Champions League history. Ramos also holds the record for being the most carded player in the history of the Spanish national team, with about 24 yellow cards.
Ramos was honoured with different awards such as La Liga Breakthrough Player of the Year in 2005, La Liga Best Defender from 2011 through 2017, UEFA Champions League Defender of the Season in 2017 and 2018, IFFHS World's Highest Scoring Defender of the Decade in 2011 through 2020, Luis Aragones Award in 2016, Globe Soccer Awards "Best Defender of All Time"and many more.