It happened last Monday in Sapele. It was a very special day in the life of a long-suffering former international football player. For over two decades, even with some medical intervention funded by the Lagos State government under Babatunde Fashola, about 10 years ago, Peter Fregene's health condition went from bad to worse.
He has been spending his days and nights either on a wheel chair or in his bed, his withered body now riddled with bedsores.
Peter 'Apo' Fregene, has suffered and been in truly bad shape for too long. A few months ago, his wife raised an alarm on social media, his state captured in a horrific picture that pricked the conscience of all Nigerians.
Unfortunately, Nigerians may have been suffering from 'humanitarian-fatigue' with the unending appeal to the public for support for retired international athletes suffering in thè twilight of their lives.
Only one organisation called to enquire about the great former Nigerian football hero, and what could be done to alleviate Peter's situation, ON A PERMANENT BASIS.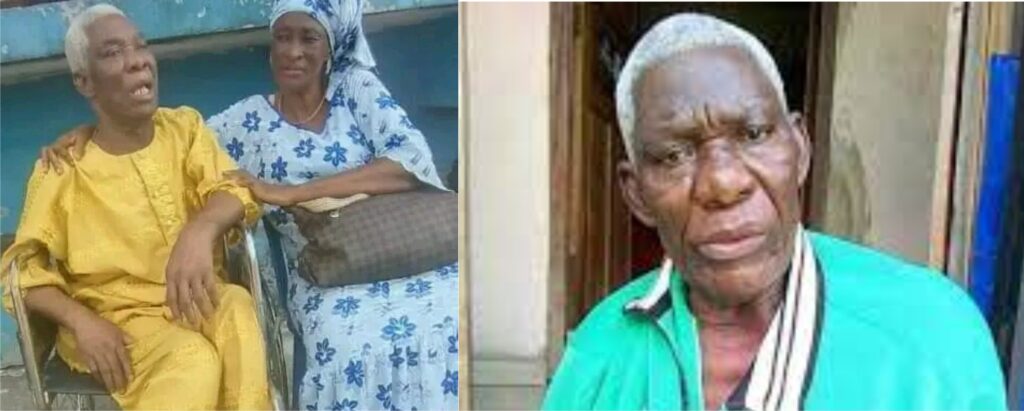 Two days ago, 'divine messengers' quietly descended and landed in Sapele, in the rented, one-bedroom apartment where Peter Fregene and his wife live in ceaseless pain and penury.
They came loaded with 'manna' from heaven. In a well-thought out program of rehabilitation, the messengers delivered all physical essentials needed in a new home to make living and life more comfortable for Peter Fregene – furniture, bed, television set, generator, and so on and so forth.
The apartment is undergoing repainting and complete upgrading. On top of all that, the family will be given a very tidy monthly allowance, more than enough to meet the needs of the family, through his devoted wife who has stayed by Peter's side through the decades, giving up her own life so that Peter will live and not die. On the occasion, officials of the national telecommunications giant came to deliver these life-sustaining gifts.
Peter, who had worn a hopeless, forlorn- look on his face for so long, had a transfiguration. His face lit up. A huge smile returned and started to dance on his face. His weakened limbs started to quake. His lips uttered audible words for the first time in years – they were of gratitude to his Creator in Heaven and to his benefactor here on earth.
The messengers did not want any publicity for this act, but I cannot be involved in such a huge humanitarian project, witness such ample munificence and benevolence, and not play the small part of acknowledgement.
On behalf of all Nigerian sportsmen and women, I humbly thank the Chairman, board, management and staff of GLOBACOM for this uncommon shower of love and compassion on a retired Nigerian football hero who diligently served Nigeria for 2 decades, from the mid-1960s to the early 1980s, the longest in Nigeria's football history.