East, West, North or South, Dance occupies a pride of place in our multi-dimensional culture. Anywhere there is drumming there must be dancing, even other musical instruments evoke dance steps, from the old, the young, men and women, and don't be surprised to hear that even the dead dance as witnessed by the display of pall bearers with various caskets. Entertainment you will say, and this happens to be an important aspect of television and radio broadcast.
Adedayo Liadi is the founder of IJODEE ARTS, a dance troupe. The well-travelled dancer shares some of his experiences with Yinka Adejuwon in this piece.
Last year, NTA marked 60 years of television broadcasting in Nigeria. How has broadcasting helped the entertainment industry in general and your dance sector in particular? Also, what do you think should be done to better position the broadcast industry in the country for international competitions?
To my understanding, NTA did a lot for the entertainment industry in Nigeria. The station has tried, but it hasn't done enough for dance as a profession. I wish it could promote more dance-oriented programs and dance educational programs to the awareness of everyone like the other Nigerian private TV stations are doing. But I wish it more success.
Of all career options, why dance?
I come from a family of dancers, so it wasn't difficult for me to dance because everyone around me was into it. Dancing gives me joy and it clears my heart worries. That's how it became my passion.
What has dance done for you in life?
Dance has brought me success and good health.
In the countries you have been to, which of them has dance culture built into its societal fabric?
I have been to 67 countries and I've lost count, but France, Germany, Netherlands, Austria, United Kingdom, South Africa, Rwanda, Mozambique, USA, South America, South Korea, Burkina-Faso, Senegal, have dance culture.
Compare Nigeria to these countries and tell us what is missing by ignoring that sector.
We are so far behind because we don't have the structure that can sustain the Art industry. Our government keeps talking about Art and Culture without investing in them or promoting them. Our government still thinks dance is a hobby instead of classifying dance as a profession. Dance unites, connects, and promotes the rich culture of all societies. It promotes tourism, engages the mind, and gives good health and countless opportunities for employment.
At the 10th edition of your annual TRUEFEST International Dance festival, you announced that it would be the last. Why?
The festival is not really ending because I have other ambitions to realise, which I am trying to focus more on. I started the festival in 2006 with my personal income and with the help of foreign Art funders abroad. Till date, Nigeria has never supported the festival in any way. But I am starting new Art projects in Nigeria and France with the assistance of my wife.
What have you gained from the dance festival?
I am proud to say that the festival has improved many lives, created opportunities for youths for many years. The festival has helped in discovering and promoting talents. The festival has helped many young Nigerian dance artistes to gain local and international recognition and it has also helped many to see they can do the same as I am doing without government support. Now we have many young dance artistes investing their money and energy into making dance a career. When I started, it wasn't like that, but now, they can feel, and can see hope. That gives me joy to move to the next level I'm aiming at because I can't put all my energy on one project for long. Almost all of the great dancers in Nigeria today have, in one way or the other, benefited from TRUFESTA dance festival.
Has the purpose for its creation been achieved?
Yes….by God's grace. At least 90 per cent of its purpose had been achieved by last year.
You call it an international festival but the last edition featured only dancers from Nigeria. What happened to dancers from other countries because none showed up?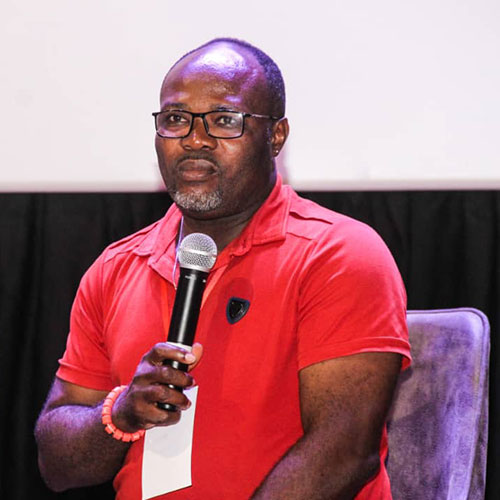 All was well organised and ready to roll when the xenophobic attacks in South Africa broke out. That prevented South African artistes from getting Nigeria visa. It is very unfortunate that France, Haiti, Ivory Coast delegation also couldn't come because of last minute changes in schedules due to a serious issue between sponsors and the dance troupe. The same issue happened with the Republic of Tchad. The one that baffled me most was Benin Republic. The dancer had a motorbike accident a day before her trip to Lagos for the festival. But then, I can never be discouraged because things like this happen and still, the show most go on; but we are happy that the Austrian artistes made it after much stress.
Do you think things would have been different if you had sponsors?
We had good supports but no major sponsors for sure. It's possible it may have been different if we had major sponsors, but sponsors can't stop unforeseen circumstances like accidents, sickness, riot, misunderstanding issues amongst partners, attacks, etc. The issues that came up at the last minute were beyond control.
Without corporate sponsors, how did you manage to pull off something this huge for a decade?
When God is your back bone, you can do anything. As long as you are focused and are connected with God, nothing is impossible.
Have Nigerians accepted dance as an important part of our cultural life?
Yes. I say that because things have improved tremendously compared to 15, 20 years ago. We now have more people interested in dance because of its health value. We need to continue as we have been doing with the hope that more sponsors and government would support the future editions.
Jahman Anikulapo said you repaired Nigeria's broken image at an event during the despotic reign of General Sanni Abacha. What was he talking about?
It happened in Antananarivo in Madagascar in 2003. I represented Nigeria at the only international dance competition platform in Africa at that time. Among the 52 countries and contestants that participated, my solo and group performances came first in Africa at that time when no one was interested in anything from Nigeria. But our success at the competition got many Western nations' dance festival organisers looking in the direction of Nigeria. Then, many from the Western world did not see Nigeria as a country to reckon with politically due to the military regime that was on for many years. But to our surprise, God used us as a tool to correct many wrong impressions about Nigeria. That opportunity opened countless international tours for IJODEE ARTS. But unfortunately, our government no send us o!. We came back to Nigeria and no welcome party or presidential handshake. It was like we sent ourselves to the event.
After your participation in the video of "OLORIOKO" by Infinity, no musician has done something like that, to feature dancers like you. Why is your style of dance not attractive to the present popular musicians?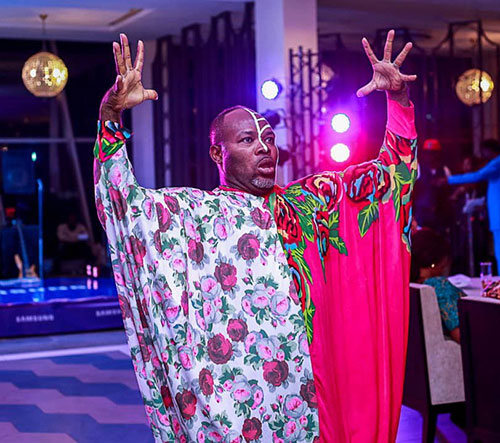 I understand that Nigerians love entertainment a lot. Due to my trainings abroad for years I do creative dances (contemporary dance). You would have to task your mind before you can understand my interpretations because I am trained to tell stories with my entire body and not just for entertainment alone. OLORIOKO is just one out of many that I have done in and outside Nigeria. Before that video, I have done several projects and tours outside Nigeria, but OLORIOKO opened people's eyes and minds to another idea of dance, which is more tasking if I may say. But today's dancers would rather do the easy, fast and popular dance styles because they want to make fast money via musical video without much tasks or researches.
To do my kind of dance, you would need serious training for years (not just months). That's why many wouldn't want to go into it. I'm happy that some dance artistes and dance scholars are researching my style of dance at different Universities as a major project for the Masters, PHD degrees etc. That gives me joy and that means am already passing it on to the next generation. Fortunately, we now have more shows in Nigeria like we also have overseas. To me, that is success and that's how God crowns efforts after working hard.
If you were not a dancer, what would have been your option?
Wow! I would be a sportsman 100 per cent because that was always my first career option before dance got me completely. I love all kind of sports because I love physical activities. As you can see, dance is also a kind of sport.