That Governor Gboyega Oyetola turned 66 last Tuesday is not the focus of this piece. How much he has achieved for Osun State as a quiet leader really attracts observers.
Oyetola is one quiet person, quiet enough from every approach for you to read his mind, or to relate this to his aggressiveness in the pursuit of his projects and promises. Notably, Oyetola is a promise keeper. That, essentially, is in his character.
For eight years that he was the Chief of staff to the former governor of the state, he was the loyal, workaholic, but very quiet engine room of the government. And no amount of pressure stressed him.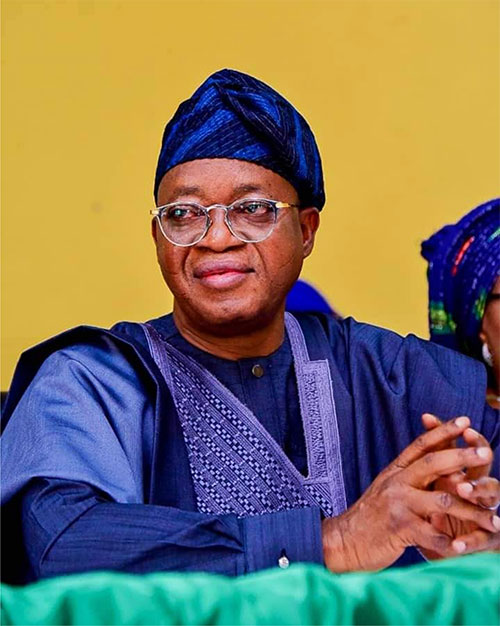 As a governor, he governs a poor state. But there is always abundance in a poor environment governed by visionary leaders. Yes, this is the case when Oyetola picked Tourism, Arts and Culture for aggressive development in his revolutionary plans announced few days ago.
Talking of this sector, Osun state is in the forefront in the South West and Nigeria generally. In spite of the potentials of Arts, Culture and Tourism as a viable sector to take over from the dwindling fortunes of oil in order to herald another era of prosperity, major attention has not been attached to it. This is the reason for some rapid responses, including financial partnership, which followed Oyetola's public decision to pursue the sector as a major revenue earner for Osun State.
It is a coincidence, a notable coincidence, that the Federal Government flagged off the celebration of 'Nigeria at 60' with Arts, Culture and Tourism as a platform.
Minister Lai Mohammed, while flagging off Nigeria's historical exhibition to commence the celebration last Monday, spoke about the uniqueness of Arts playing a major role in the country.
Apart from being a big foreign revenue earner along with Tourism, Lai Mohammed said Arts also played prominent role in the unity of the country, arising from cultural streams that are reflected in the diversity of styles.
One notable take-away from the exhibition is that it featured rich achieves, pictures of dance troupes, pottery, hairstyles and fashion, traditional musical instruments, festivals and many others that cultural states like Osun have been noted for. From a common front, analysts foresee a strong synergy between the Federal Government and Oyetola's vision for this sector, for a better tomorrow. Oyetola seems ready to blaze the trail.
Such a move is commendable, financial analysts who spoke to Broadcasters International Magazine opined.
"Osun State was the centre of exportable Arts, Culture and even drama/dance troupes in the past until these were reduced to only "Osun Festival".
Now that states have to look the other way for revenue, this is the time to encourage the sector rapidly", a financial consultant said, advising that the state needs the support of the Federal Government in this effort. Perhaps, this is the point that Minister Lai Mohammed was trying to stress when he said at the World Tourism Day 2020 that: "Despite the negative impact of CONVID- 19 on the sector, it is a mark of resilience that governments around the world still look to the sector to drive recovery as a leading employer and economic pillar".