— KEMI AJAYI
…Speaks On The 'Radio Nigeria Brand'
First and Foremost, let's have an idea about who Kemi Ajayi is.
I was born on the 26th July 1959, and named Olukemi Olajumoke, Bosede, Anike Akinban
ji. My father Ezekiel Olaluwoye Akinbanji is a retired school Principal, still alive and doing well at the age of Ninety One by God's grace and mercy while my mother, Deborah Adebola Akinbanji (Nee Ajayi), is of blessed memory, having passed to glory in 2006 (March).
I attended the great Abadina School, University of Ibadan (1965-1969) and St. Lukes's Demonstration School, Molete Ibadan (1969-1971).
For secondary education, I attended Queens' School Ibadan (1972-1976) and Fiwasaye Girls' Grammar School Akure (1977-1978).
I have a Bachelor of Arts Degree in Theatre Arts from University of Ibadan and a Masters Degree in Social Work, also from Unibadan.
Earlier, I obtained a full Diploma in Journalism from the Nigeria Institute of Journalism, Lagos. I also had on-the-job training in Journalism under the auspices of the Thompson Foundation (1988) Basic and Senior Announcers Courses in 1978 and 1982, at the NBC Training School and FRCN Training School now called National Broadcast Academy, Lagos.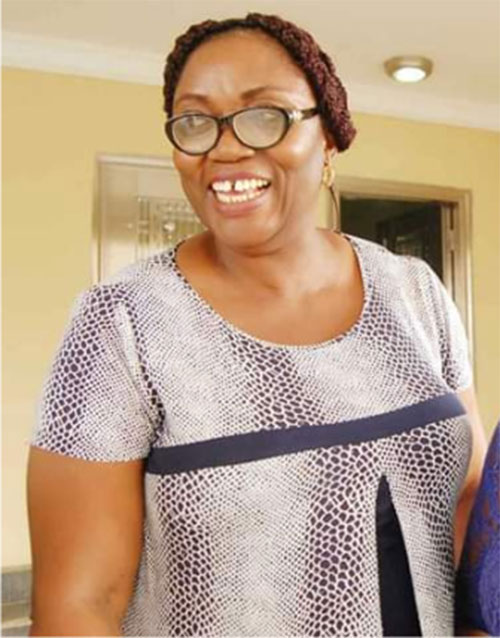 I did not become a broadcaster by accident. I had always, as a child, admired the earliest broadcasters on radio and television – the likes of Towun Adeyemi, Anike Agbaje-Williams, Yinka Johnson, Nelson Ipaye, Kunle Olasope, Julie Coker and so on and so forth. I always prayed to be like them when I grew. God answered my prayers.
On a fateful day in 1977, shortly after the retake of my WASCE, I went with friends on an excursion to Oba Ile, Akure, the then location of Ondo State Broadcasting Corporation (OSBC). Auditions were ongoing and adventurously, I took part. I was rated high and given a temporary appointment on Grade Level 4, awaiting my school certificate results. My results were highly impressive when they came out but I could not wait for a review of my official status at OSBC because I was young and restless. I came to Ibadan in 1978 and immediately became a freelance announcer/newsreader with Radio O-Y-O (as they were then called) while also working full time with the UNIBADAN MASQUES, the acting company of University of Ibadan with Dr. Bayo Oduneye as Director and late Professor Joel Adeyinka Adedeji as Head of Department, Theatre Arts. The eloquence of Professor Yinka Adedeji further rubbed off on me, especially during the production of Bode Osanyin's "Shattered Bridge". My spoken words and general expressions simply got better.
In January 1980, an envious senior colleague at O-Y-O lied to me that the Management no longer wanted freelance staff. I was only twenty years old and quite gullible. I believed her and just moved on without making enquiries. I went to be auditioned in NTA Ibadan, then NTV, got lucky and was employed full time as announcer/newsreader/presenter, a job I enjoyed wholeheartedly till I left for the Nigeria Institute of Journalism in 1984.
Permit me to state here that, when I got admitted to the NIJ, I was qualified for a study leave with pay with my school fees paid in full. My request was declined and someone somewhere, cooked up a barrage of offences against me, such that, for months after my colleagues had started lectures, I was still held up in Ibadan. I eventually had to choose to either continue with my job or opt out for school. I chose the latter option. Today, I am glad I did because God helped me to recover all in my career.
On completion of my Diploma Course at the NIJ Lagos, I began a print journalism career at the defunct Sketch Press in Ibadan as a sub-editor/reporter. I later wrote features and had my own columns, "Sketch Diary", co-edited with Fisan Bankale, who is now a diplomat with UNFP (or UNDP?) and "Kiddies Sketch" or "Sketch Kiddies". I also did full coverage of "Better Life for Rural Women" in the then Oyo State (which included Osun, Ondo and Ekiti States).
It was great fun and honour to work with Mrs. Kehinde Olurin, wife of then Governor Adetunji Olurin. She was quite humane and down to earth. I eventually became a member of the Committee in Oyo State, with my friend Abiola Audu who came from the Tribune.
By and by, I found that in spite of all the pleasure of print journalism, broadcasting remained an addictive trade, if you're good at it. It is a natural thing for me, being blessed by God, with the gift of the garb. I therefore, found my way back.
You are retiring from a successful service to your country in the broadcast industry. Kindly give an insight into your experiences, including challenges, and how you handled them.
I came into broadcasting very young and quite impressionable. It was very easy to imbibe the good professional qualities in senior colleagues, with whom I had the grace and the privilege to work. I am here, talking of the likes of, Dipo Babalola, Nelson Ipaye, Towun Adeyemi, Kunle Olasope, Anike Agbaje-Williams George Jobarteh, Kunle Adeleke, Bayo Faleti, Bayo Sanda, Adeola Adeleke-Adedoyin, Yanju Adegbite, Sanya Oyinsan, Agboola Ogedengbe and scores of others. I learnt from the very best.
These people taught me the moral and professional discipline that broadcasting entailed, imparted in me, a high sense of love and commitment for my work and I was a fast learner with great passion and a sense of duty. Even if I say it myself, I have great zeal for the job and I excelled. The highest an announcer or presenter becomes in FRCN is Network Newsreader.
I read the network news for more than 10 years. I came to work on time, hours before my shifts so that I had ample time to prepare for flawless shifts during which I played appropriate music, read news perfectly, made announcements and back announcements professionally and with panache and banter decently like a virtuoso of the trade. I gave the best of myself and I was rewarded with fulfillment.
The job gave me the opportunity to work with great colleagues who have moved on to greater accomplishments like Bisi Olatilo, Tonia Igunbor, Funke Ajagbe-Alli (of blessed memory) Jaye Ojo, Tony Jibunoh, Shade Omitola (Haastrup), Soni Irabor, Yori Folarin, Bolaji Oladepo, Dehinde Falase, Bisi Lasile (of blessed memory) , Toyin Sodipo, Funke Oga, Toyin Bamgbala-Ajibola and a host of others. We were all very hard working.
I came to Radio Nigeria, saw and conquered. By the grace of God, according to His promise, all the years that were eaten up in my career by locusts, caterpillars and cankerworms were restored to me when, in January 2015 I was made General Manager Radio Nigeria's Paramount F.M., Abeokuta. Today as an Assistant Director after years of meritorious service, I retired from FRCN, having reached sixty years of age. To God be all the glory.
Just like in print journalism, there appears substantial drop in standard your likes inherited and tried to maintain as against the practice today, Can you analyse the reasons for this?
Unfortunately, things are no longer the same as they used to be. There is a downward trend in the quality of today's broadcasters and broadcasting. Most broadcasters now are only in it for the glamour and popularity. They are morally and professionally bankrupt as, many come in through the back door. So many ladies are found to have climbed the ladder of success, lying on their backs and the young men hold on to godfathers in government or political circles. It is such a shame.
Broadcasting is not a lazy man's vocation. It demands your time and energy, I always say good broadcasters are born, not made because whatever training or examples you have, all theses only serve to enhance whatever flairs you have not put, in what is naturally absent.
I had all my three children in the course of my career. I reared them and trained them and they are all today University graduates. I am also a proud grandmother. My job was never a hindrance to the well being of my family and vice-versa. All these requires discipline and thank God, I learnt from the best.
The FRCN is an enviable brand on its own, and has been able to maintain this brand in terms of quality production and contents nationwide. As a manager with the corporation, what are responsible for this sustainability?
Radio Nigeria remains the flagship of broadcasting in Nigeria. This might be attributed to the solid foundation of the founders of the organization and the hard work of subsequent directors and Director Generals like Dr. Christopher Kolade, Bishop George Bako, Dr. Eddie Iroh and so on. The only female who occupied the DG's seat, Mrs. Mariah Odey, however, in spite of her tenacity and high sense of professionalism was not confirmed she acted the office throughout.
There are seasoned female broadcasters out there and they need the chance to prove their mettle. The standard of presentation on Radio Nigeria still surpasses that of other radio stations; if you tune to any FRCN station in any State of Nigeria, the announcers and presenters sound alike. The English spoken word is presented with the same dexterity. This is due to the foundational training at the Broadcast Academy in Lagos. Even the reporters are outstanding, other radio and television stations today are eager to employ FRCN trained hands because they are the best.
So, it is safe and right to say Radio Nigeria is the foremost training ground for broadcasters in Nigeria even the most popular private stations have Radio Nigeria to thank, for the best of their staff today. John Momoh is a product of Radio Nigeria, so is Sola Omole and quite a handful of others.
Remuneration is not commensurate with the hard work and risks that the trade demands if government could come up with the 'fat' salary structure for the Academia, then a structure, different from that of the civil service should also be crafted for broadcasters.
In the near future, as a trained and qualified Social worker, I plan to run a Day-care Centre for the senior citizens in memory of my late husband, I will name it "Peter Ajayi memorial centre for Senior Citizens".
Mind you, it is not a home but a Day-care Centre.
'Kemi Ajayi